An OSG reader, Rebecca, asked me if I could recommend some cooler-friendly Oh She Glows recipes she could take on the road for an upcoming camping trip. This question has been a popular one over the years, so I thought the long weekend would be a great excuse to brainstorm a list of camp- and travel-friendly foods to inspire you!
In my early twenties, I would "camp" (I use that term lightly!) pretty regularly, but the food my friends and I packed in those days was a little different from what I stock my cooler with today. Okay, A LOT different! Lol. Back then, as long as I had potato chips and fruity coolers, I was a "happy camper"! Oh to be 21 again. Don't worry, though, I've accumulated a few years of wisdom since then. I consulted OSG's recipe tester Nicole to help put this post together as she often travels with my recipes in tow. I think the two of us have come up with some fun ideas for you! As always, please feel free to chime in with your tips and tricks too.
The recipes below can all be made in advance, and many of them also tend to keep well in minimal storage without too much fuss. At the bottom of this post I also recommend some tasty store-bought options for when you don't have time to make everything you might have hoped to for a trip…because if you're anything like me, you'll probably find yourself scrambling at the last minute to get everything ready!
Milks and Fresh Breakfast Options
I love making pre-portioned single servings of dry Vegan Overnight Oats packets to take with us on trips. Simply bring a few single-serve, shelf-stable plant-based milks along and mix them in with the oat packets when ready to enjoy.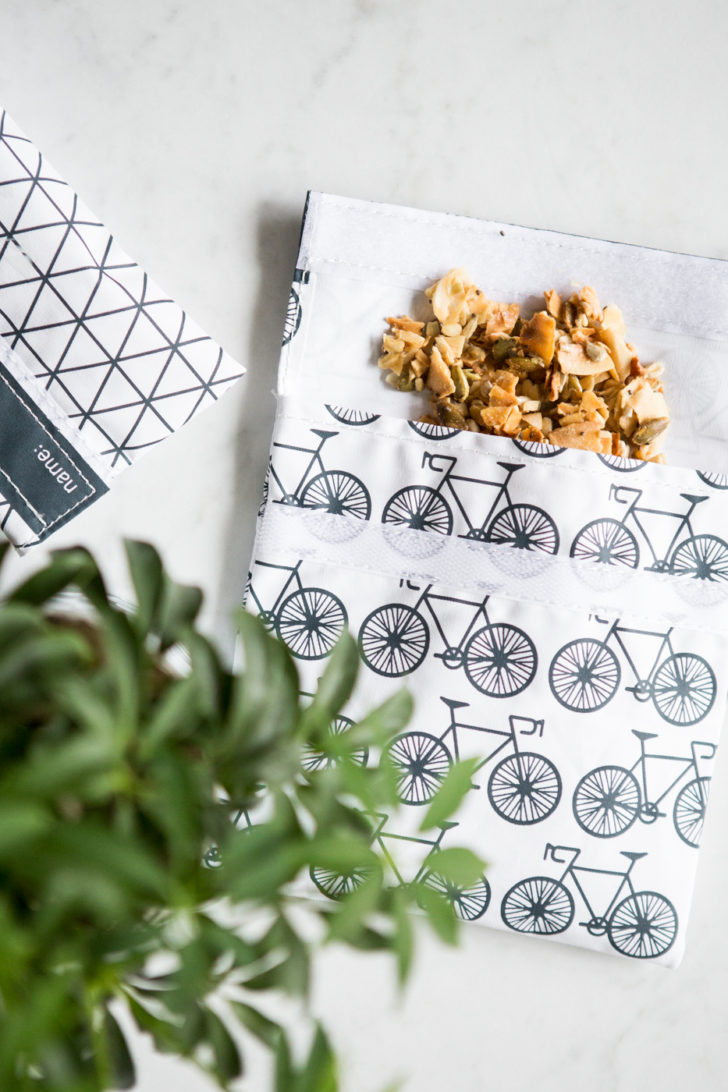 Looking for eco-friendly reusable bags? Check out these reusable velcro pouches shown in the photo above.
Granola or Muesli
We love munching on my Ultimate Nutty Granola Clusters (The Oh She Glows Cookbook, p. 31) and my Roasted Hazelnut-Almond Granola Clusters (Oh She Glows Every Day, p. 71) when traveling, plus these clusters should keep fresh in an airtight bag or container for a few weeks.
Fruit and Veggies
Bring your favourite fruits and veggies, choosing varieties that tend to travel well and don't mind sitting at room temperature—this should help save cooler space for other meals that require refrigeration. Apples, oranges, firm avocados, and cucumbers are usually safe bets. Avoid thin-skinned fruit like peaches or pears as they tend to bruise easily.
Dried Fruit and DIY Trail Mix
Energy-dense dried fruits are another great option for camping! Dried apricots, mangoes, and cherries are some of my favourites. You can also make a DIY trail mix by adding dried fruit like raisins and dried cranberries to a container with your favourite mixed nuts.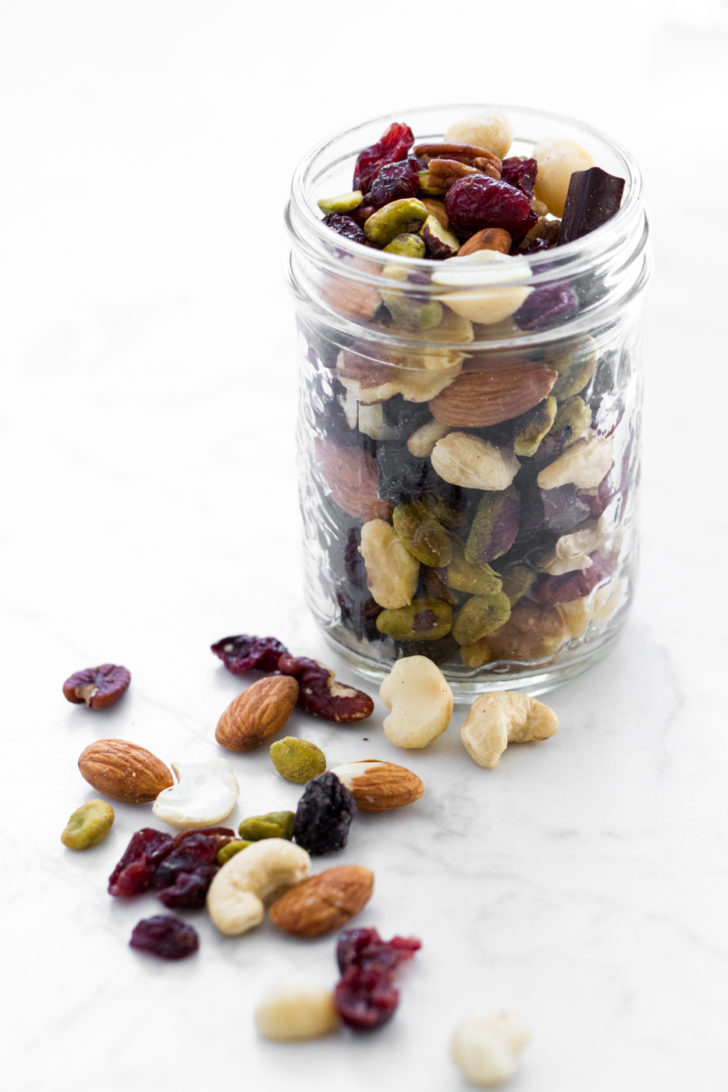 Crackers
I love having a good seedy cracker on hand for snacking. My Endurance Crackers are hearty, filling, and energizing! Just be sure they're packed on top of other foods so they don't get crushed by anything in transit. Bring a container of nut or seed butter and a small pouch of hemp hearts for a satisfying, protein-packed snack that needs no refrigeration.
Protein Bars or Energy Bites
My Dark Chocolate Cherry Energy Bites, Cookie Dough Balls V (Oh She Glows Every Day, p. 93), and Triple Almond Energy Balls are perfect to munch on between meals. For another option, try my Classic Glo Bars (from The Oh She Glows Cookbook, p. 215), or Feel Good Hearty Granola Bars—those two tend to be big hits as well. Nicole recommends the Mocha Empower Glo Bars (Oh She Glows Everyday, p. 69), saying: "Away from home for 10 days with a toddler? You may need that invigorating combination of chocolate and espresso!" Haha.
Coffee/Tea
Speaking of coffee and tea…I'd love to hear your tips on camping while still getting your coffee fix. Please share your method if you have one! Maybe a make-ahead DIY Coffee Concentrate could work?
Power Toast and Wraps
The 9-Spice Avocado Hummus Toast (Oh She Glows Everyday, p. 39) is a great light meal option! Serve it with Super Power Chia Bread (The Oh She Glows Cookbook, p. 229). Pack a few avocados, a small container of 9-spice Mix, and hummus (keep chilled) for a quick meal. Ifyou don't have time to make the power bread, just pack a few of your favourite wraps from home. I love Wrap It Up Raw's flax wraps—they freeze wonderfully too.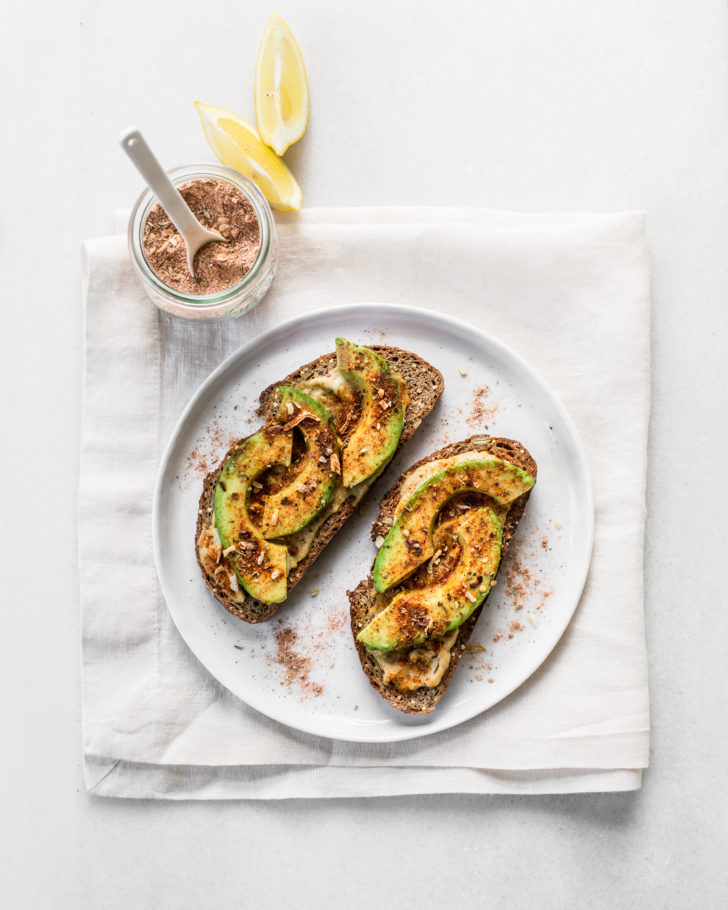 Soups and Fresh Mains
If you have a really good cooler situation going, you could also consider making a salad/soup—my Chickpea Salad and Go-To Gazpacho (also found in Oh She Glows Every Day, p. 147 and the app) both travel well. The gazpacho can be guzzled cold straight from a mason jar—super refreshing! If you're able to bring a bag of salad along, you could whip up a jar of my Shake and Go Balsamic Vinaigrette (Oh She Glows Every Day, p. 273) as well. Tetra Paks of baked beans always work in a pinch (and you don't need a can opener or a cooler!). I love these Vegetarian Baked Beans by Pacific brand.
Another idea is to pack the ingredients for a super easy balsamic chickpea salad. Bring some small Tetra Paks of chickpeas (I buy Pacific brand), balsamic vinegar (or any vinegar you love), olive oil, salt, and pepper. Bring along a collapsible strainer and a bowl, and you've got the gear for a quick salad: simply drain and rinse the chickpeas then add them to the bowl along with the vinegar, olive oil, salt, and pepper (to taste).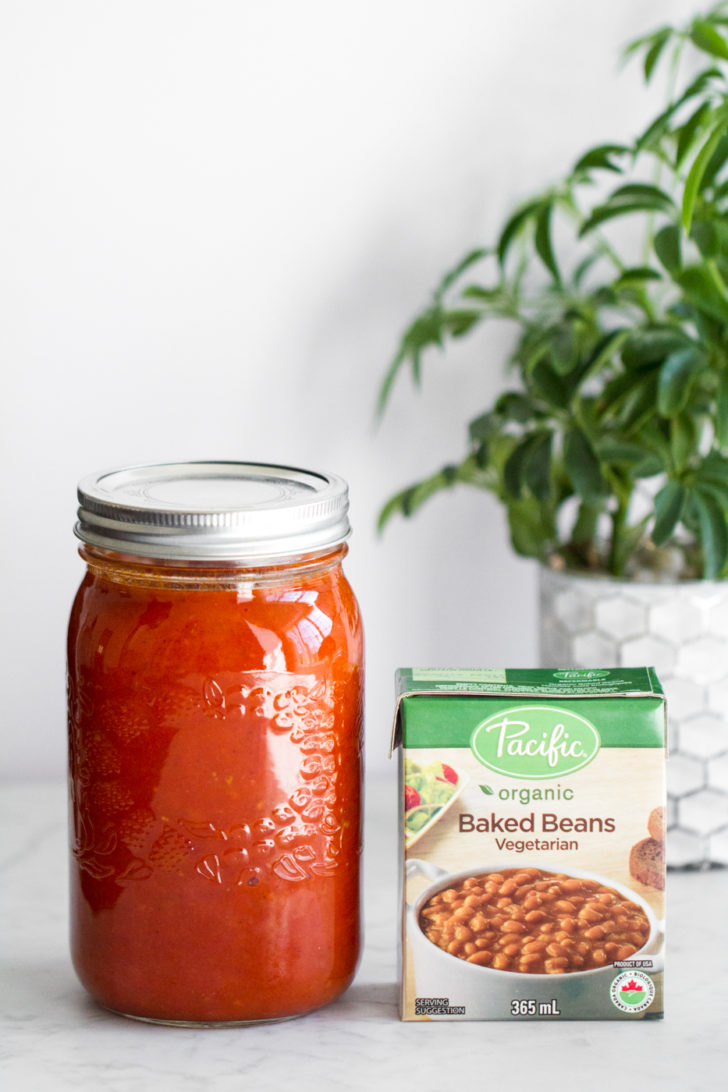 Sweet Treats
My Flourless Thumbprint Breakfast Cookies, Blissful Basil Power Biscotti, and Banana Bread Muffin Tops can all be made ahead and frozen. Our editor, Terra, packed the Banana Bread Muffin Tops for mountaintop snacking on her month-long hiking trip through Switzerland. Terra added a touch of rosemary oil (which she uses as a natural preservative) to the batter, and the tops kept beautifully during her trek!
I recommend eating the most perishable items first, if possible. This may also be a situation in which it's worth stocking up on some store-bought, less perishable options because not all foods will last in a cooler for too long. (Unless of course it's going to be COLD where you're camping—in that case, maybe a little DIY Hot Toddy is in order! Yassssss!)
Running out of prep time before your trip? Here are some store-bought plant-based foods that should keep well through your travels!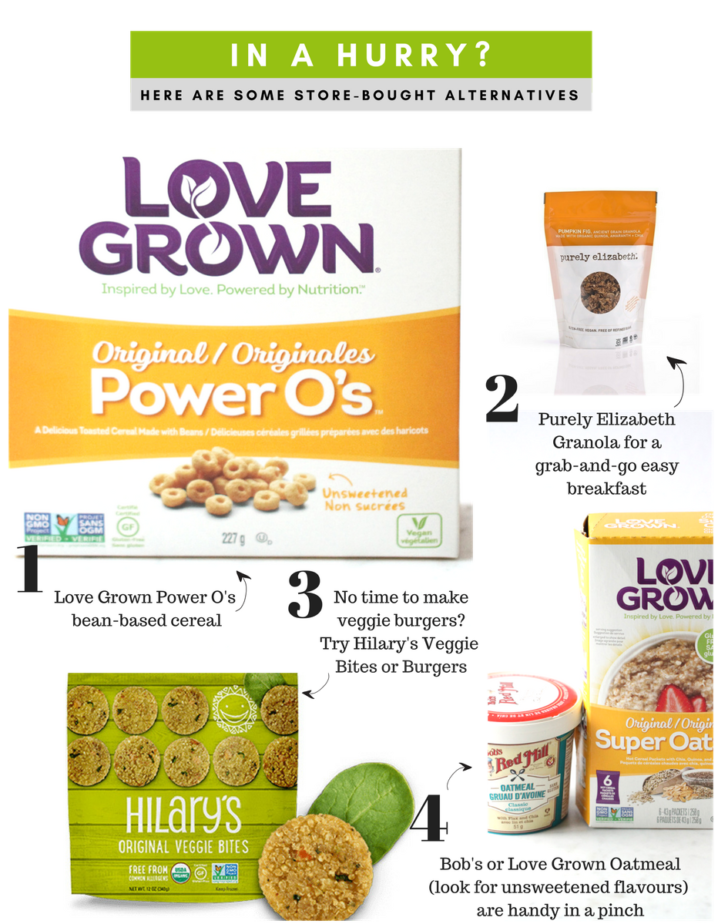 Photo credit, photos 1, 3, 5, 6, 7, 10: Ashley McLaughlin